What you should know...
How to Operate a Wood Burner for Maximum Efficiency
Most people will tend to put as much wood in as possible. This will only make the burner take longer to heat up. By criss-crossing your wood and only filling it halfway will give you the maximum heat output and burn more efficently.
It is better to have 5 smaller pieces than 2 big pieces for a better burn.
Useful Tips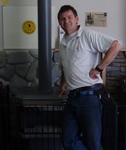 Burning seasoned wood saves you money
Between the months of March and September there is a huge demand to have wood burners cleaned and repaired. The best time to have your fireplace serviced is after winter i.e.October to February. As for firewood, save hundreds of dollars buying it in the summer and storing it in a dry shed or lean-to-ready and dry for the winter.
Each year I replace numerous flue systems at several hundred dollars each for people who have been trying to burn unseasoned wood. Wood is generally bought in the winter with the likelihood of it not being fully dried. It pays to be one year ahead with firewood to reduce costs.
Peace of mind
After each chimney sweep and safety check a certificate of service is issued if the woodburner is safe to use. This will cover any insurance requirements in case of a chimney fire.
The most important part of a chimney clean is not just the clean itself, but a check to make sure the fire is running efficiently and in safe working order. On average one out of four woodburners I see need some type of repair.
Common Repairs
One of the more common repairs are the door and glass seal. Turning the fire down when these are worn can be difficult and also fumes can escape into the room. An indication of this will be a handle with no squeeze on it.
The second most common repair is the baffle. This is the plate which sits inside the box in the ceiling. Without this, or if it is broken heat will go straight up the flue and make the woodburner very inefficient.
One of the more expensive repairs that can be avoided is the flue. If there has been a slow leak over time from the roof, this can cause the flue system to rust and split open at the seam.
A regular service saves you money
At an average cost of $3500 for a new logburner installed, it pays to have your fire checked and serviced on an annual basis.
Contact Chimney Magic today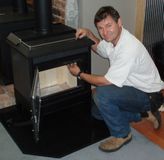 Contact Chimney Magic today to book a time for your chimney sweep or for your wood burner or fire place to be serviced. Alan is the owner/operator of Chimney Magic and guarantees personal service.
"Having full control of the business means I'm on time every time, no waiting around."
Contact Details
Alan (Direct) 0274 318675
Email:
Chimney Magic
PO Box: 33-335
Petone