About your chimney sweep
Hi, I'm Alan Campbell and welcome to Chimney Magic's profile.
I have lived in Lower Hutt all my life. I am a keen sportsman and very active in scuba diving and fishing. I am also a former New Zealand Olympic Weightlifting representative.
I spent 10 years in the insurance industry as a financial advisor before starting up the very successful Minimovers removal company. After selling up the business in 1999, I was introduced to the wood burning industry.
After a few months cleaning chimneys, I realized there was a huge gap in the market for wood burner repairs. Any layman could clean a chimney with limited training but if the wood burner needed repairs then that could become a safety issue.
Chimney Magic is basically your one stop shop for sweeping and repairs. Chimney Magic now services an ever growing client base currently exceeding 2000 clients, including several property management companies. My wife, Leonie looks after the administrative side.
I cover a wide area from Wellington through to Porirua across to Upper Hutt down to Petone.
If you have any questions please feel free to email me or phone direct on 0274 318 675.
Contact Chimney Magic today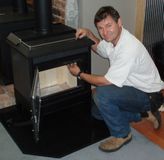 Contact Chimney Magic today to book a time for your chimney sweep or for your wood burner or fire place to be serviced. Alan is the owner/operator of Chimney Magic and guarantees personal service.
"Having full control of the business means I'm on time every time, no waiting around."
Contact Details
Alan (Direct) 0274 318675
Email:
Chimney Magic
PO Box: 33-335
Petone